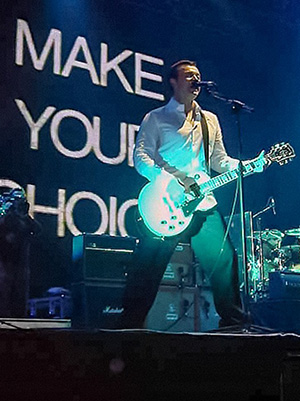 Hello, and welcome to Shutters Closing Slowly, a gallery of Manic Street Preachers photos I have taken over the last two decades.
I started out photographing the Manics back in 2002, using a 2-megapixel Nikon Coolpix 2000. Sadly, I have lost the original photos I took with this and my second camera, and early photo quality in the gallery is not very high. I have however included them for completion, and have done my best to play with them in Photoshop so I can get an improvement in quality. Whether this has come off, let me know!
I took an extended break from gigging for various reasons between 2006 and 2014, but got a shiny new Panasonic TZ60 in 2016, and have used that, as well as my phones, to photograph select gigs I have been to since 2017. At some, I took no photos at all as I just wanted to enjoy the experience without distractions, but I have regretted not getting at least a few photos at these gigs as well - this will hopefully spur me on to take more pics at future gigs.
There are currently 43 galleries in all (from around 68 gigs I have attended) - as I say, of varying quality and blurriness! I hope you enjoy them. All feedback gratefully received if you want to get in touch via the Contact page.